This past summer, I discovered quilling while meandering through Hobby Lobby looking for something new to do. I was in a creative fog and my normal crocheting/sewing/photography-self just wasn't excited by anything. Nothing at all. I needed a challenge.
Knowing nothing about quilling, I bought some strips of paper, found a toothpick to wrap paper around and within minutes I made this to thank a friend for her hospitality:
Now I'm hooked! The first ever quilled works came from England hundreds of years ago. Book binders would trim off some of the guilded paper and artisans would quill the scraps (by wrapping the paper around--you guessed it!--quills) to decorate the covers of the books.
I, however don't have fancy gold-edged paper, but I did quill hair barrettes for the girls' Christmas pageant attire from my overflowing stash of scrapbook papers: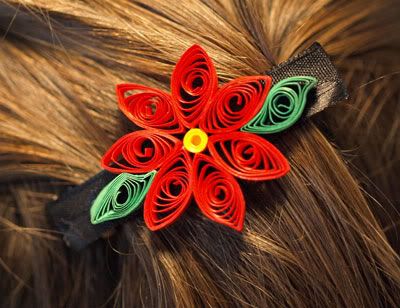 The snowflake ornament nicely decorates the tree, too: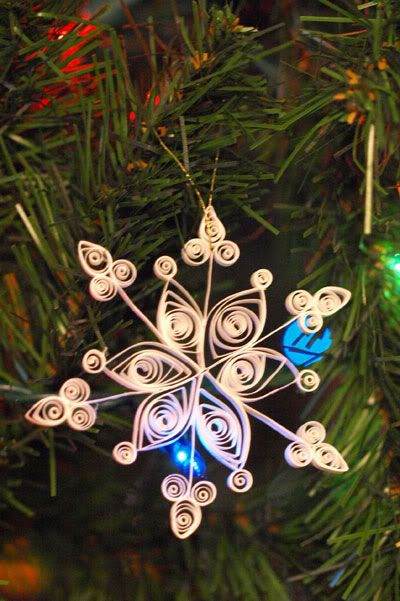 The best thing about this craft is that the girls quill alongside me. Every evening we twist and twirl paper into ornaments and snowflakes.
These are Kenna's creations:
The bad thing about this craft is that it isn't Micah-friendly (this
was
a Christmas tree):
So we usually wait until our resident tornado has gone to bed before we break out the quilling supplies. The girls and I enjoy gathering 'round the table, crafting and chatting. With no expectations, each piece is lovingly handmade and always perfect. It's Christmas memories in the making.